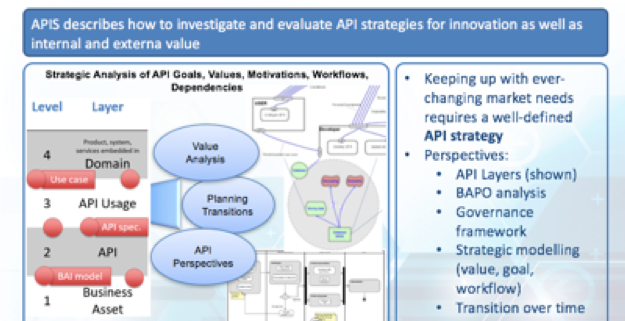 Background
APIs (Application Programming Interfaces) are often regarded as a key enabler for innovation by providing mechanisms for different applications to integrate, generating new value for businesses and customers. For many companies, keeping up with ever-changing market needs requires a well defined API strategy. The mission of the APIS project is to identify processes, methods, and instruments to manage the API value chain.
Project uses multidimensional conceptual framework that to identify useful perspectives to API strategy development in the participating companies. The framework is based on models of layering of digital technologies, governance and method engineering.
Expected impact
The goal of this project is to provide industrial partners with support for how to build an API strategy that involve both internal actors and external stakeholders. We address the immediate and direct needs of partners that are dealing with different dimensions of API strategy.
Theoretical perspectives
API strategy, API management, platform innovation management
Partners
Axis Communications, Bosch, Ericsson, Grundfos, Tetra Pak
SCDI participants
Juho Lindman
Funding and timeline
Software Center 2016-2018